Home / Services & Capabilites / Technical Writing & Training
Technical Writing & Training
BDI Technical Writers have a background in complex technical documentation design, development and management of an electronic library; version control and archiving.
We have proven experience in the following areas:
Needs assessment;
Underpinning research;
Collaboration across multiple trades or specialities;
Document version control systems;
Electronic document and directory management
Editing and proof reading;
We have successfully delivered to our customers:
Electrical, Mechanical Engineering Instructions (EMEI);
User Handbooks;
Maintenance Manuals;
Tabulated Data Charts;
Work Flow Diagrams;
Product Identification Lists;
Tabulated Procedures, and
Fold-out and flip-book training aids
BDI training staff possesses current, nationally recognised qualifications in the analysis, design, development, delivery and supervision of training.
We have proven experience in the following areas:
Conducting organisational Training Needs Analysis (TNA);
Training Implementation Plans (TIP)including resourcing;
Training Package design and development;
Lesson Package development including trainers lesson plans, multimedia based training materials, candidates lesson notes and handouts, and
outcome mapping to nationally accredited outcomes for delivery by a Registered Training Organisation (RTO) with an appropriate Scope of Registration (SOR);
Synchronisation of effects by training pre-delivery or post-delivery, and
Training Package evaluation and continuous improvement, post-delivery.
We have successfully delivered to our customers:
Train-the-Trainer Operator courses.
Train-the-Trainer Maintainer courses.
Maintenance Techniques.
Looking for the Best Engineering Solution for your Project?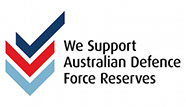 If you would like more details on a particular product or service please fill out and submit the form below and one of our team will contact you with more information.
All Rights Reserved © 2015 | Bale Defence Industries Pty. Ltd.